By Taxis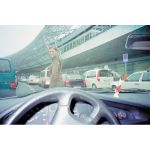 The most convenient way to get around Beijing is by taxi. Taxi drivers these days usually speak basic English, but if you are unlucky and your driver just smiles at you make sure you always have with you the name of your hotel written in Chinese  –  the receptionist will either write it down for you or give you a hotel name card for you to show the driver, or anybody you need directions from.  
As in every big city it's very difficult to hail a taxi when it's raining, but in Beijing some taxis will simply refuse to do longer journeys, especially to the airport ,and they also will refuse to go anywhere if it involves driving on the 3rd Ring Road which is completely jammed in the rain. Note that taxis cannot stop anywhere they want – usually if there is a white line and it's a busy place with police around they are likely to ignore your hailing. Try a side street or look outside hotels. 
Little secret tips:  
The starting price for a taxi ride is RMB10 which includes the first 3km, and after that the price per km is RMB2.  For a journey longer than 10 km or after 23:00hrs, the fare will increase 50%. 
All bridge and road tolls are charged extra. 
There are illegal taxis in Beijing, but it is possible to spot an unlicensed cab – all legal, licensed taxi number plates start with 'Beijing B'. Try to use a licensed taxi as the drivers know their way around and will always give you a printed-out receipt if you ask for one.  
Most people in China sit next to the driver who is separated from them by a plastic partition – but I wouldn't recommend it. In my experience, the seat is small and driving in Beijing is based around the wheel and the horn, which means lots of overtaking and fast driving, with no indicators. Try to sit  diagonally behind the driver where you'll have more legroom, as they usually push their seat well back to stretch their legs.
For Private Day Trips in Beijing email Tara@ReadyClickAndGo.com or check our website at www.ReadyClickAndGo.com